FlowPagos.com is the new local payment methods platform in Mexico. It is part of Flow, the number one Payments Provider in Chile with more than 50.000 merchants and over 1 million transactions processed monthly.
New local payment methods platform in Mexico 
FlowPagos arrives in Mexico, the first country expansion for the Chilean Payment Provider, Flow. Javier Huerta, Mexican Country Manager, leads the operation for Flow in Mexico. With more than 15 years experience in Banorte, Vesta and Ingenico Payments. Javier has a vast knowledge both, in the domestic and International Fintech area. He also understands very well what solutions FlowPagos is going to provide in Mexico.
Flowpagos mission is to offer online payment solutions that are safe and meet all International requirements. Therefore, we have a transparent Payout Process, a single API and a single contract, so merchants can focus on their business and not waste time or money elsewhere.
FlowPagos offers more than 20 local payments, online and offline. Besides that, it offers all major local debit and credit cards (Visa, Mastercard, America Express or Carnet). It is also associated with all the relevant partners in order to accept all Cash Payments such as 7Eleven, Oxxo, Farmacias del Ahorro, Super Farmacias and many more, adding over 20.000 locations where cash payments can be accepted across the country. It also offers Spei (an online bank payment system which accepts all banks in Mexico). Flow will provide an easy and complete onboarding process, the best conversion for online sales and an efficient fraud prevention system, using all the know-how we have from Chile.
With more than 28 years of Grupo Tuxpan's experience
Flow is a spin-off from the Tuxpan Group. It has been developed using the latest technologies available, where security and usability have been the centerpiece of its design. Integrating all the relevant players in the financial Industry and supporting innovative products. With over 30 payment methods, plug-ins with all major providers, subscriptions, email payments, QR code-based payments, among others. Also, with the PCI Certification Level 1, ( Crime Prevention Model, Amazon Web Services WEC2) and the highest Security Standards.
We also have Sumar.cl a Chilean Marketplace for Chilean SMB´s which is also part of the Tuxpan Group.
Tuxpan has worked in both technology and consultancy. With over 28 years of experience in software development, they have completed projects with the largest Chilean Banks and financial companies such as Santander, Transbank and the Central Bank of Chile, Telecom companies such as Telefonica, Brasil Telecom, Embratel or OI, Chilean Government entities such as, the agricultural Ministry, Internal Revenue Service, or Corfo, (Corporation for the production efficiency), and some well known retailers such as Walmart Chile, or Cencosud, and last but not least Insurance Companies, the likes of Cardif BNP Paribas, Metlife or Zurich-Santander.
Our mission: helping e-merchants to expand to Mexico and sell locally
"We are very happy to announce our arrival in Mexico. Flow has put a lot of resources and efforts into this expansion. We worked really hard to be able to start our operations as soon as possible, creating our own Mexican Company and having our own office in DF. Also, we made strategic investments in the sector in Mexico, to accelerate our expansion".
"We understand the market, its challenges and opportunities. We are convinced that we bring an alternative to the current providers that can help us fulfill our mission: helping companies to expand their business to Mexico and sell as if they were locals, on the fastest and easiest way possible" says Javier Huerta, Country Manager for Mexico in FlowPagos.
"Mexico is the first step in our way towards the expansion to many countries in LATAM, under a single platform, allowing us to bring all the potential this region has to offer, thanks to our history and experience in Chile", mentions Santiago Macias, Flow CEO.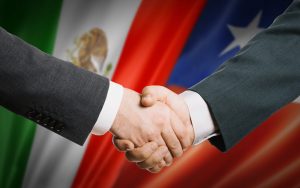 Flow Mexico: CDMX, México.